Pumpkin, Chickpea & Zucchini Curry (Vegan/Vegetarian). This creamy vegan Pumpkin Chickpea Curry with Spinach is the perfect comfort food! Alone, this Moroccan Pumpkin & Chickpea Stew recipe is hearty, add a grain and not only does it make it that much more filling, it will make the stew go even farther. A beautiful vegan coconut chickpea curry recipe from Jamie Oliver.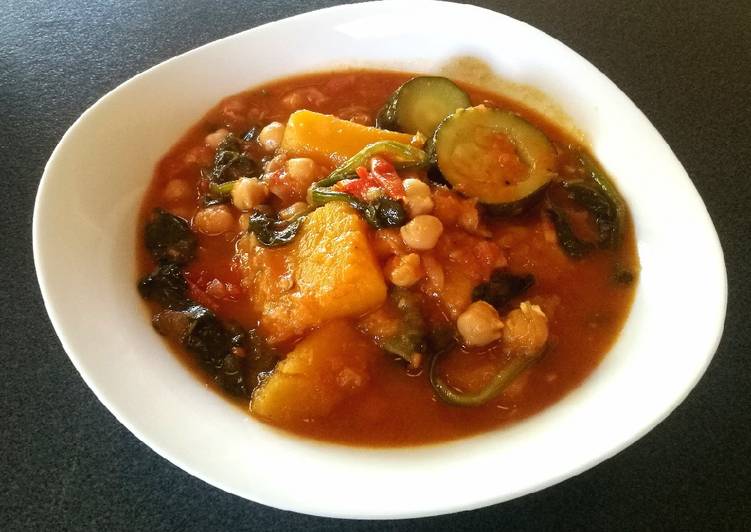 Creamy pumpkin chickpea coconut curry with cashews and broccoli. I like to get festive and make at least one pumpkin dish every fall. If I had to choose my all-time favourite. You can cook Pumpkin, Chickpea & Zucchini Curry (Vegan/Vegetarian) using 27 ingredients and 5 steps. Here is how you cook that.
Ingredients of Pumpkin, Chickpea & Zucchini Curry (Vegan/Vegetarian)
You need 1/2 of Butternut Pumpkin (600gms).
It's 1 of Zucchini.
It's 2 of Tomatoes.
You need 2 handfuls of Baby Spinach.
You need 1 of Brown Onion.
You need 1 of Garlic Clove.
You need 1 Tbs of Fresh Ginger grated.
Prepare 500 mls of Vegetable Stock.
You need 1 Can (240 gm) of Chickpeas.
It's 1 Can (400 gm) of Tomatoes.
Prepare 2 Tbs of Coconut (or Greek) yoghurt.
Prepare 2 Tbs of Olive Oil (or vegetable oil).
Prepare of The Spices.
It's 4 of Cardamom Pods.
You need 3 of Cloves.
You need 2 of Star Anise.
It's 4 of Curry Leaves.
Prepare 2 of Bay Leaves.
It's 1 of Cinnamon Stick.
Prepare 1 Tsp of Fenugreek Seeds.
Prepare 2 of Tsps Ground Corriander.
Prepare 2 of Tsps Ground Cumin.
You need 1 Tsp of Garam Masala.
You need 1 Tsp of Ground Tumeric.
You need of Fresh or dried chili.
You need to taste of Salt.
Prepare to taste of Pepper.
This easy Chickpea Pumpkin Coconut Curry is a delicious, comforting soup for fall and winter and will warm you up from the inside out! A vegan pumpkin chickpea stew for a simple, seasonal autumn meal. This vegan pumpkin chickpea stew or curry is one of those recipes. I've switched out coconut oil primarily for olive oil.
Pumpkin, Chickpea & Zucchini Curry (Vegan/Vegetarian) instructions
Saute Onions, Ginger and Garlic on low heat in olive oil for approx 10 minutes.
Add all Spices to pan and and fry for a minute or 2 (or until fragrant).
Add all vegetables minus the Spinach and stir.
Add the canned Tomatoes, Chickpeas, Stock, Yoghurt & bring to boil.
Once boiling, turn heat to low and simmer for approx 20-30mins (or until pumpkin is soft). Add the Spinach a few minutes before removing the pot from the heat.
Pumpkin soup is a winter classic. In this version we roast the pumpkin first to draw out the sweetness and add depth of flavour. Start this recipe a day ahead to soak the chickpeas. Pumpkin and Chickpeas Combine For the Creamiest Vegan Soup Ever. From Anna Monette Roberts, POPSUGAR Food.