Stuffed zucchini. This delicious stuffed zucchini recipe can be served as either a side dish or a main dish. This recipe needs a lot of adjustments. In order for the zucchini boats not to be undercooked, (ie. crunchy) they.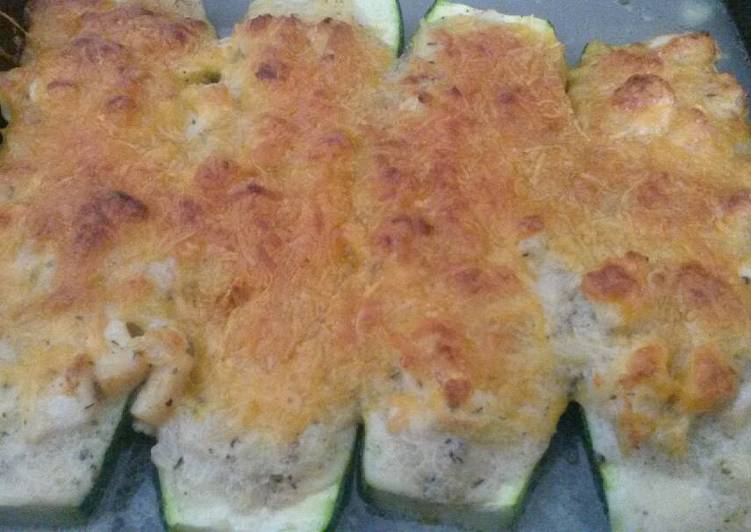 It's an especially good choice during the summer when everyone's gardens are overflowing with squash. You just cut the zucchini in half lengthwise, and scoop out the insides, leaving a shell to stuff with whatever your heart desires. Stuffed zucchini is a delicious and nutritious meal that is perfect for grilling on a nice summer's day or great for eating on a cold winter's night. You can cook Stuffed zucchini using 5 ingredients and 4 steps. Here is how you cook it.
Ingredients of Stuffed zucchini
Prepare 2 of zucchini.
You need 6 oz of chicken breasts meat.
You need 2 Tbs of chopped onions.
It's 1 cup of melted Mexican mix cheese.
You need 1/2 cup of Ranch dressing.
Stuffed zucchini boats with bell pepper, chickpeas, and vegan cheese! This is a simple vegetarian weeknight dinner, side dish or entrée which contains healthy wholesome ingredients. Here are some health benefits of stuffed zucchini: Zucchini squash are low in carbohydrates and calories, and are brimming with fiber and vitamin C, which helps promote a healthy immune system. Crispy Stuffed Zucchini are so easy to make!
Stuffed zucchini step by step
Wash and cut in half zucchini.
Delete all the center part off zukini due to the spoon, add salt and pepper.
Chop meat, fry it on both sides till half-cooked constitution, add chopped zucchini centerpieces, onions, fry for 2 min.
Mix zucchini - chicken mix with Ranch dressing and stuff zucchini "boats". Put cheese on top. Bake at 420°F for 30 min.
One of THE best ways to enjoy zucchini! Crispy and crunchy, this Stuffed Zucchini is the perfect side dish OR snack! Get the top-rated recipe for Stuffed Zucchini at http Watch how to make zucchini stuffed with sausage, seasoned ground beef, and a rich tomato sauce. Stuffed squash, courgette, marrow, mahshi, or zucchini is a dish of the region of the former Ottoman Empire from the Balkans to the Levant and Egypt, a kind of dolma. It consists of various kinds of squash or zucchini stuffed with rice and sometimes meat and cooked on the stovetop or in the oven.