Pesto Shrimp with Pasta and Broccoli.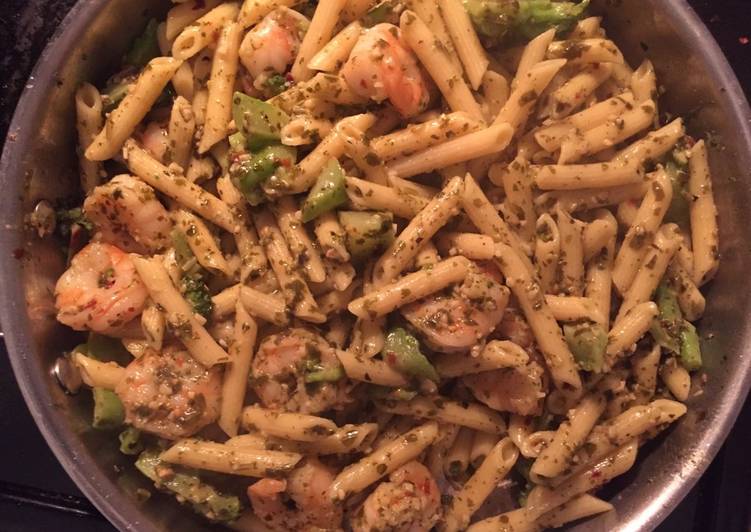 You can cook Pesto Shrimp with Pasta and Broccoli using 9 ingredients and 8 steps. Here is how you cook it.
Ingredients of Pesto Shrimp with Pasta and Broccoli
You need 3-4 ounces of pesto spread or sauce.
Prepare 2 tablespoons of extra virgin olive oil.
It's 2 cups of frozen or fresh broccoli.
You need 2 teaspoons of red pepper chili flakes (optional).
You need 1 cup of tail-off shrimp (About 4 oz each serving).
Prepare 1 teaspoon of Sea salt.
You need 2 teaspoons of freshly ground peppercorns.
You need 1 tablespoon of minced garlic.
Prepare Half of cup of Parmesan or Feta (optional).
Pesto Shrimp with Pasta and Broccoli step by step
While water is boiling for pasta, add 1 tablespoon of olive oil to a large 12-inch skillet pan and heat on medium-high..
After the oil is heated, add minced garlic and stir frequently until a very light toast..
Add shrimp to the pan. Stir the garlic around with the shrimp occasionally until shrimp reaches the correct pink cooked color. If shrimp is frozen, simply cook until defrosted. Immediately add broccoli. If broccoli is frozen, add frozen broccoli when you add the frozen shrimp..
It should be time to boil the pasta. Add pasta with a tiny drop of olive oil. Cook until al dente.
Add 1 teaspoon red chili flakes and 1 oz of pesto sauce to shrimp and broccoli and stir. Set heat to low..
Once pasta is boiled, drain and add to skillet pan with the shrimp and broccoli..
Add remaining pesto sauce, red chili flakes, and olive oil to the pasta and stir. Add salt and pepper to taste..
Top with grated cheese of choice and serve..