Spinach Basil Pesto. Spinach, basil, lemon juice, lemon zest, garlic, and Parmesan cheese work together in this tasty pesto recipe. Reviews for: Photos of Spinach Basil Pesto. Spinach Basil Pesto - A great flavor booster, we keep a jar of this Basil Pesto in our fridge at all Today, we are sharing a super simple recipe for Spinach Basil Pesto.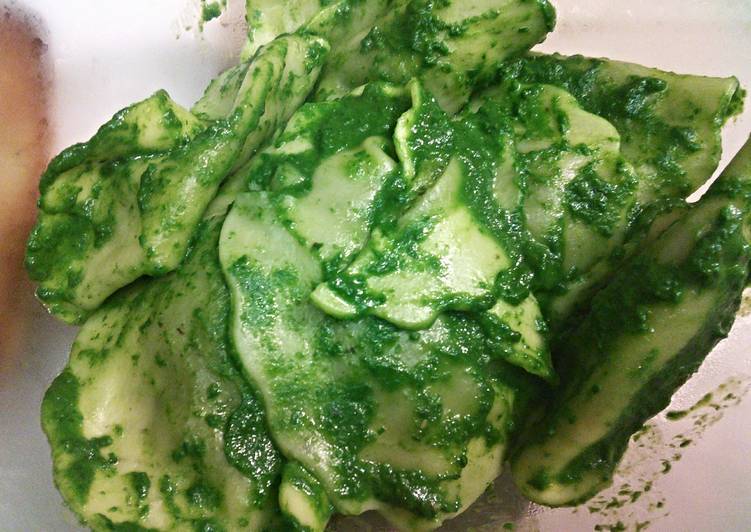 This spinach basil pesto recipe is super easy to make and uses nutritional yeast instead of parmesan cheese. Why I love this spinach pesto recipe. You guys know that I like pesto right? You can have Spinach Basil Pesto using 7 ingredients and 6 steps. Here is how you cook that.
Ingredients of Spinach Basil Pesto
You need 2 cup of washed chopped spinach (an 8-12 ounce package of fresh spinach works).
It's 1 clove of garlic (or 2 if you like garlic).
It's 3 tbsp of pines nuts.
Prepare 1/3 cup of fresh basil.
It's 1/4 cup of olive oil.
You need 1/4 can of grated parmesan cheese.
You need 1 pinch of salt.
Fill a large stockpot three-quarters full with water and bring to a boil over high. Spinach-Basil Pesto. this link is to an external site that may or may not meet accessibility guidelines. Basil pesto recipes often call for pine nuts but you can easily substitute walnuts. You can mellow the pesto out a bit by subbing half of the basil with fresh baby spinach leaves.
Spinach Basil Pesto step by step
Chop spinach, and garlic slightly to help with mixing.
Place a small handful of spinach, pine nuts, oil, garlic, and basil in blender or food processor..
Cover and puree until leaves look bruised.
Keep adding small handfuls of spinach until all is in, using a rubber spatula to help combine mixture..
Add Parmesan cheese and salt then cover and blend until smooth..
Add to your cooked pasta and enjoy!.
Toss this garlicky, rich pesto with pasta or use as a spread. It also freezes well for fresh flavor over the winter. —Jaye Beeler, Grand Rapids, Michigan. Dump the spinach and basil into the boiling water and stir. Vegan Spinach Basil Pesto Recipe - you won't even miss the cheese. Delicious on sandwiches, pasta, crackers, you name it - pesto works on EVERYTHING!