Ooh la la chicken pesto fettucine.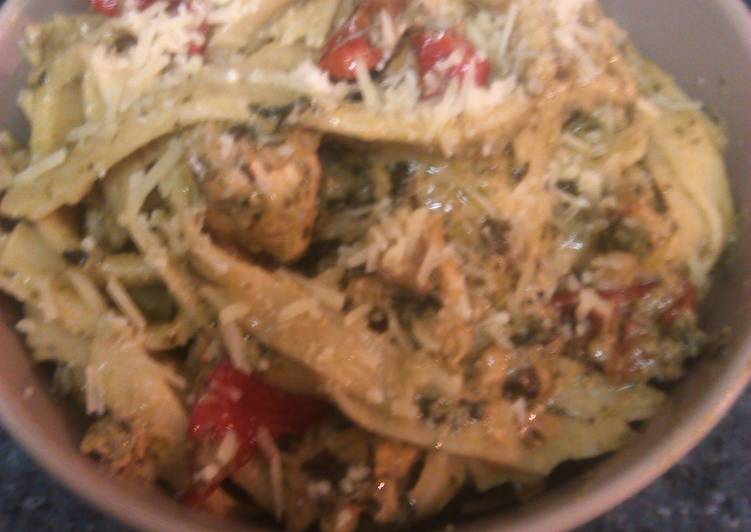 You can cook Ooh la la chicken pesto fettucine using 8 ingredients and 4 steps. Here is how you cook it.
Ingredients of Ooh la la chicken pesto fettucine
Prepare 250 grams of fettucine.
You need 1 of chicken breast, diced.
Prepare 5 tbsp of lemon juice.
You need 4 tbsp of soy sauce.
Prepare 1 jar of basil pesto.
You need 1 small of container semi dried tomatoes.
It's 3 small of cubes frozen chopped spinach - optional.
Prepare 3 tbsp of sour cream, heaped.
Ooh la la chicken pesto fettucine step by step
Place the fettucine in a large pot of salted boiling water, adding the spinach after 5 or so minutes of cooking.
Cook the chicken in a heated, oiled wok and once brown remove into a bowl and add the lemon juice and soy sauce into the wok and simmer for a few minutes.
Add the pesto, sour cream and semi dried tomatoes, returning chicken back until ingredients heated through.
Drain the fettucine once soft and toss through the pesto mixture. Serve and sprinkle with parmesan. Double the recipe for a larger family or guests.