Tomato, peach and corn salad. We suggest using uncooked corn and tomatoes that are firm yet slightly soft to the touch to give this salad a nice crunch. A variety of tomatoes can be substituted, and you can also use edamame or frozen and thawed corn kernels if fresh ears aren't available. Blue cheese or ricotta salata are appropriate swaps for Feta cheese.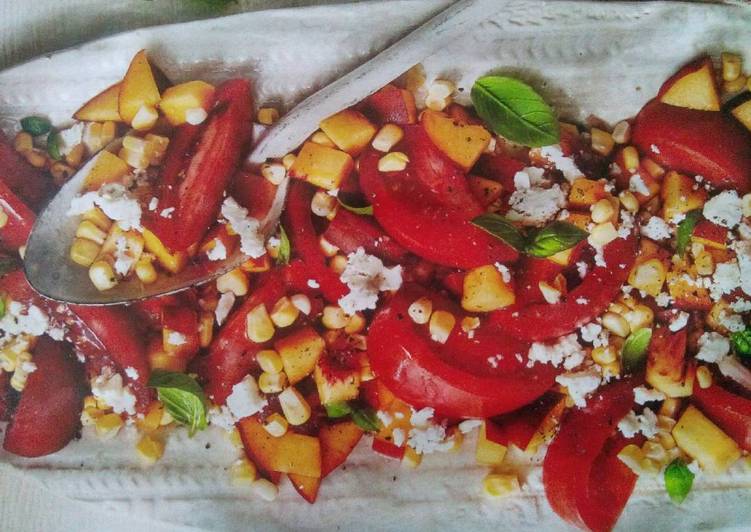 Make the most of your seasonal summer produce, with this quick and easy Grilled Corn, Peach and Tomato Salad. Three of the ingredients are in the name, but you'll also need fresh basil, queso fresco, olive oil, honey, lemon juice, salt and pepper. These flavors all together create a fresh, sweet and savory side salad that pairs perfectly with grilled fish, shrimp and chicken. You can cook Tomato, peach and corn salad using 12 ingredients and 3 steps. Here is how you achieve it.
Ingredients of Tomato, peach and corn salad
You need 2 of tomatoes.
Prepare 1 of peach.
It's 1 cup of fresh corn.
You need 1/4 teaspoon of kosher salt.
You need 1/4 cup of Dressing.
You need 1/2 cup of canola oil.
It's 1/3 cup of white balsamic vinegar.
It's 2 tablespoons of honey.
It's 1/4 teaspoon of kosher salt and pepper.
Prepare of Topping.
It's 1/2 cup of feta cheese.
It's of Black pepper.
This peach corn tomato salad is filled with amazing ingredients to create a simply delicious dish. A corn and tomato salad with peaches, feta, onion, and a spicy honey vinaigrette! I refuse to believe that Summer is coming to an end. Delicious peach, tomato & corn arugula pasta salad made with summer produce like juicy peaches and tomatoes, and corn off the cob.
Tomato, peach and corn salad instructions
Cut tomatoes into wedges, combine with diced peach and corn.
Add kosher salt, drizzle with dressing, toss.
As crumpled cheese and black pepper.
This easy vegetarian pasta salad is tossed with just olive oil and fresh lemon juice for a light, flavorful salad that's perfect for lunch, parties & picnics! Stir to let the peach and tomato juices mingle together. Fold in some crusty day-old bread. Let it sit for a few minutes so that the bread can soak up some of the juices. Top with roasted chickpeas (optional for a little protein!) and plenty of sliced basil leaves.